Commitment
We are convinced that sustainability is much more than "looking after the environment" or "recycling glass bottles". At Maison Nomade we are committed to a responsible way of life, transforming each visit into meaningful moments for all.
We believe that tourism must put people and the environment first, privileging relationships on a "human scale", "one to one", where the richness of the exchange will last in time.
We therefore invite you to have and enjoy a responsible stay. Through some very simple steps we can contribute to looking after our natural resources, making considerable energy savings, protecting the biodiversity and supporting the local community.
More concretely, we have taken the following sustainable measures:
Our B&B was built by a team of local workers, most of them Mapuche;
90% of the paints used are water based;
We have 100% LED bulbs inside and outside;
Water and gas saving systems in all our B&B;
Domestic organic waste recycled to make compost;
Waste triage;
We hire local staff and pay fair salaries;
We buy local products from local suppliers / we make our own bread.
Moreover
Our honey is from our beehives;
We bake our own bread and prepare our own jams and preserves;
We produce fruit and vegetables in our garden using only organic fertilizer;
Most of our plants and trees are native;
We obtain our firewood from responsible suppliers;
"Reduce", "reuse" and "recycle" is a fundamental principle of our behavior.
Certification
In 2017, we became member of Tripadvisor GreenLeaders Program, Silver level, for our commitment in eco-tourism and sustainable development. In December 2013, we were certified as a Sustainable Bed & Breakfast through the Distinction in Sustainable Tourism granted by the National Tourism Board (Sernatur). We were the first establishment in Pucón to obtain this seal, which distinguishes businesses implementing sustainable practices in the environmental, socio-cultural and economical areas. This distinction is internationally recognised by the Global Sustainable Tourism Council. We continue working according to the requirements of this seal.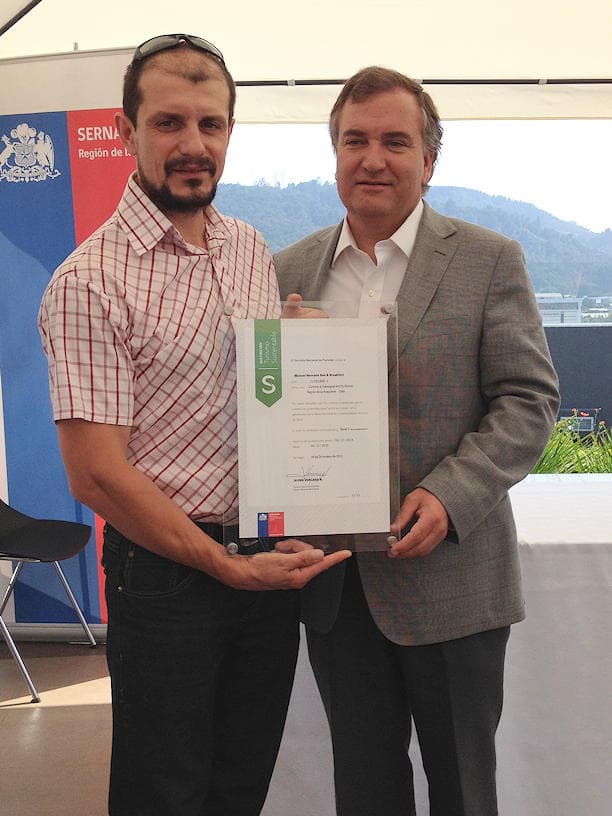 In addition, Maison Nomade received the SERNATUR Award for Merit in "Sustainable Tourism", Region of La Araucanía, in the framework of World Tourism Day 2014.
Moreover, in 2011 we accredited our facilities and services according to the Chilean Quality and Tourism Management Standard NCh.2941 as B&B in the Superior Tourist category (equivalent to 3 stars). We still continue working according to the guidelines of this standard.